Delivering Professional Website and Online Marketing Solutions for over 20 years.
Based in the heart of downtown San Rafael, CA. Our services extend across the globe.
We take pride in delivering timely & high-quality technology solutions to our diverse clientele.
Web Design
Collaborating with Jeff Buck Mediation has been a fulfilling endeavor for us at Polygons Media. We extended our comprehensive website design services, aiming to create an online platform that was not only visually appealing, but also user-friendly and intuitive. Through careful understanding of Jeff's requirements and the core principles of his mediation services, we tailored a website that authentically represented his brand, effectively bolstering his digital presence. The design process was steeped in synergy, ensuring that Jeff's feedback and ideas were woven into the fabric of the final product. As a team, we take pride in the work we've achieved together and anticipate that the new website will serve as a valuable asset for Jeff Buck Mediation in the coming years.


Platform: Webflow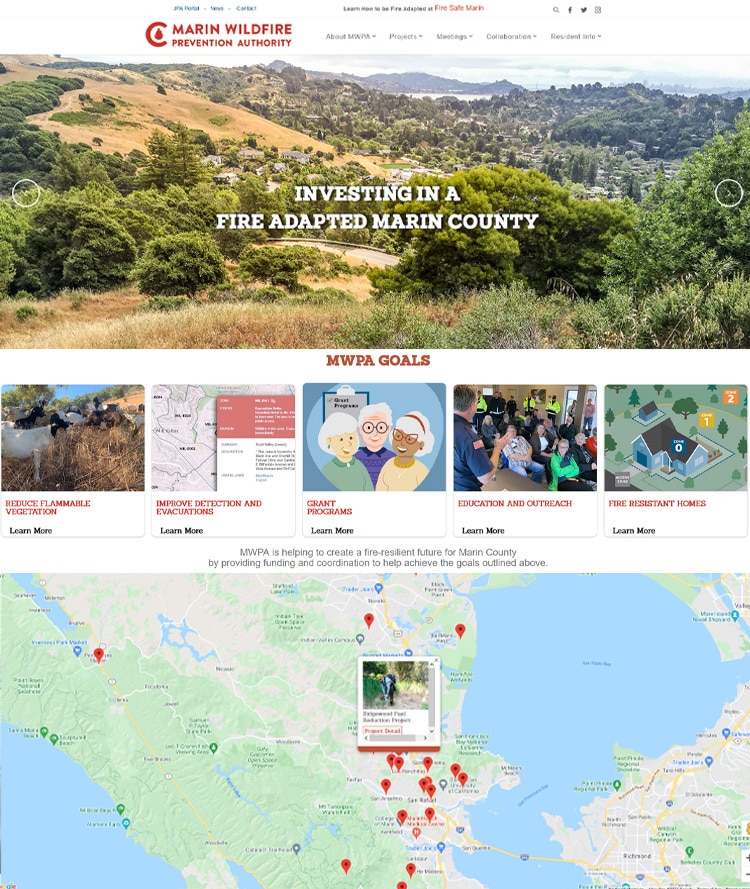 Web development
It was a pleasure working with the Marin Wildfire Prevention Authority (MWPA) team to implement their new website with an administration dashboard.

MWPA is a coalition of local fire agencies and city, town, and county governments to support the development and implementation of wildfire prevention, preparedness, and risk reduction. PolygonsMedia designed the existing website from the Wix platform to Webflow technology with the content management system (CMS) and dynamic content. Webflow powered by Amazon Cloudfront and hosted on Fastly. Webflow is an all-in-one platform with a CMS built-in.


More about MWPA:
Platform: Webflow
RedBoy Pizza - Web Design
Polygons Media launches a new Webflow website for Bay Area's most traditional sourdough pizza restaurant: Red Boy Pizza (www.redboypizza.com)
Keywords:
Webflow, UI/UX, web development, rebranding, accessibility, research
The goal for the new website was to rebrand the restaurant without changing its essence. While the new website focuses on UX/UI design to facilitate the process of online ordering, it also includes aesthetic elements that are meant to make user experience more fun and luxurious.
The new website also prioritizes transparency by offering users the chance to visit a new page that explains how Red Boy Pizza's distinguished dough is prepared, "learn the secret to our sourdough"
https://lnkd.in/ggb-p6E9
Another challenge that the new website design addressed was allowing users to access the different menus and detailed information about each Red Boy Pizza location. We tackled this challenge by creating a central page where users can find the different location pages without being overwhelmed by information
https://lnkd.in/g4FWAvmw
We are currently working on implementing a shopping cart so customers can order Red Boy Pizza merchandise directly from the website. Stay tuned for more updates!

OC VIP Car Service - Web Development
The website and mobile site have both been redesigned from the WordPress site into web-flow technology for better SEO Performance. This update results in an improved user experience with a new site map, more modern look, and improvements to the website/mobile site load time.
Roof Tech - Web Development
The distributor page has been updated to include a searchable Google Map with pins for distributors that carry Roof Tech products. Each pin is clickable and provides the city, state, name of the distributor, address, phone number, and a link to the distributor's website. The map is easily updated by entering (or deleting) the relevant information in a linked Google Sheet.
Web development
It's official: Polygons Media is now a key player in Marin County as a professional web developer!

After successfully creating over 200 web pages for the Marin Wildfire Prevention Authority (MWPA), we have been engaged by the MWPA for their latest web development project: a proposal management web portal. The portal allows MWPA's partner agencies such as local fire departments, cities, towns, and counties to submit online proposals in a centralized location for review and feedback from MWPA. The portal increases the efficiency and accuracy of the proposal approval process, reducing the need for manual data entry and hardcopy proposals.
The Cloud Agency Dashboard has been designed with the most innovative technology available. It was coded using Angular V11 without any third-party software. The latest bootstrap and material versions for components were used so as to ensure ease of use across all popular platforms and devices. Additionally, we used Firebase for NoSql DB for its scalability and real-time efficiency and power Firebase to host a global content delivery network (CDN).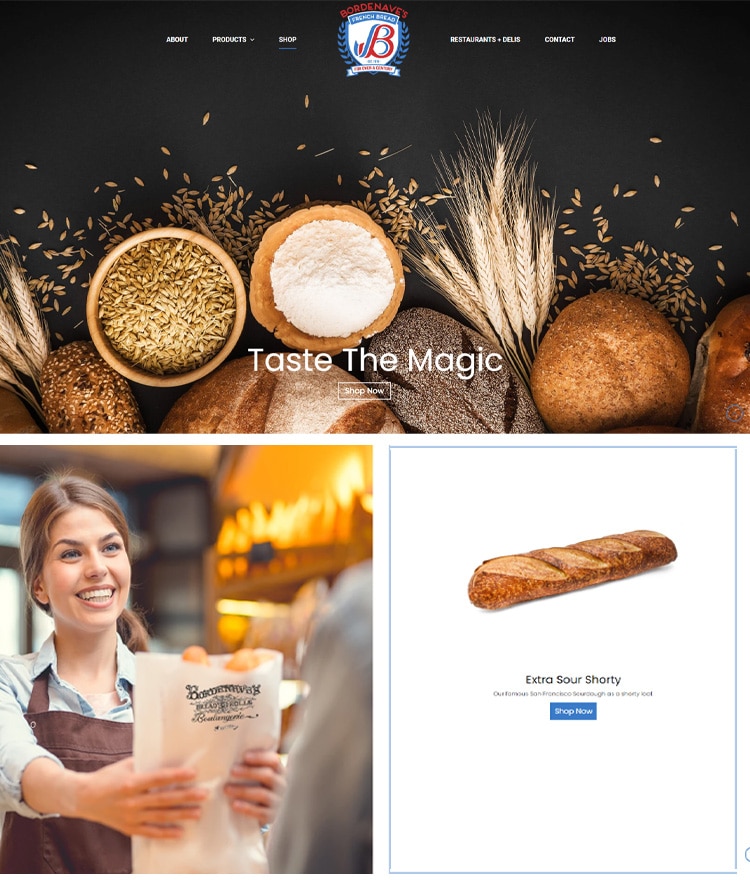 Web development - Photography - Logo Design
Bordenave's is a wholesale bakery located in San Rafael, California. Bordenaves supply fresh-baked bread daily to many of the finest restaurants, delis, and specialty grocery stores all over the Bay Area. They have done so for over a century.
Bordenaves insist on not using any modern dough conditioners, chemicals, additives, nor preservatives of any kind. At Bordenave's pride on the freshness and quality of all their products. They offer a wide selection of breads that vary in style, taste, grain, and texture.
Every employee strives to achieve and maintain continued customer satisfaction. The close relationships we have developed with our customers is proof of our success. They have a large, devoted clientele to showcase our great tasting breads. Bordenave's has earned a reputation for extraordinary quality and creativity while maintaining reasonable prices.

More about Bordenave's Bakery:
Platform: Shopify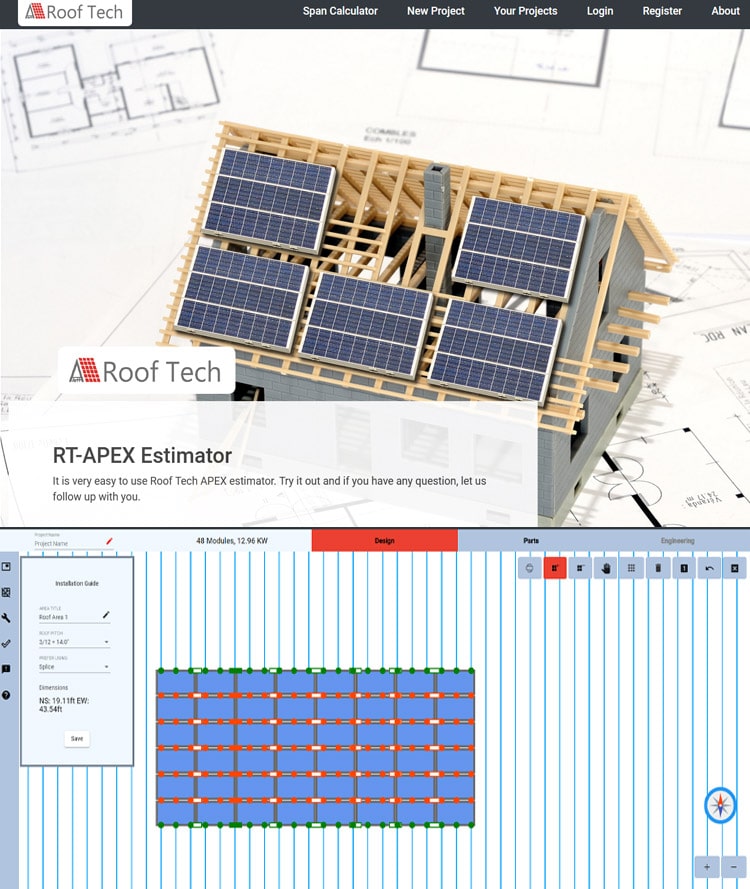 Web development - Angular - Firebase
Span Calculator and Estimator for Roof Tech
Span calculator simply takes in your project details and quickly calculates the minimum span based on your standards. The engineering standards for designing the system are stored in the server that can quickly provide the user with the final result in real-time. You can email the results to someone else, or send them to another application with our built-in API requests.

Estimator

Fully design your project with Solar Mounting Estimator. When the engineering standards for designing the system are provided, we can customize an awesome tool for your project creation based on your needs.

Ability to design on a blank page or the rooftop of a specific location from Google Satellite images.


More about Roof Tech, Inc
Platform: Angular - Firebase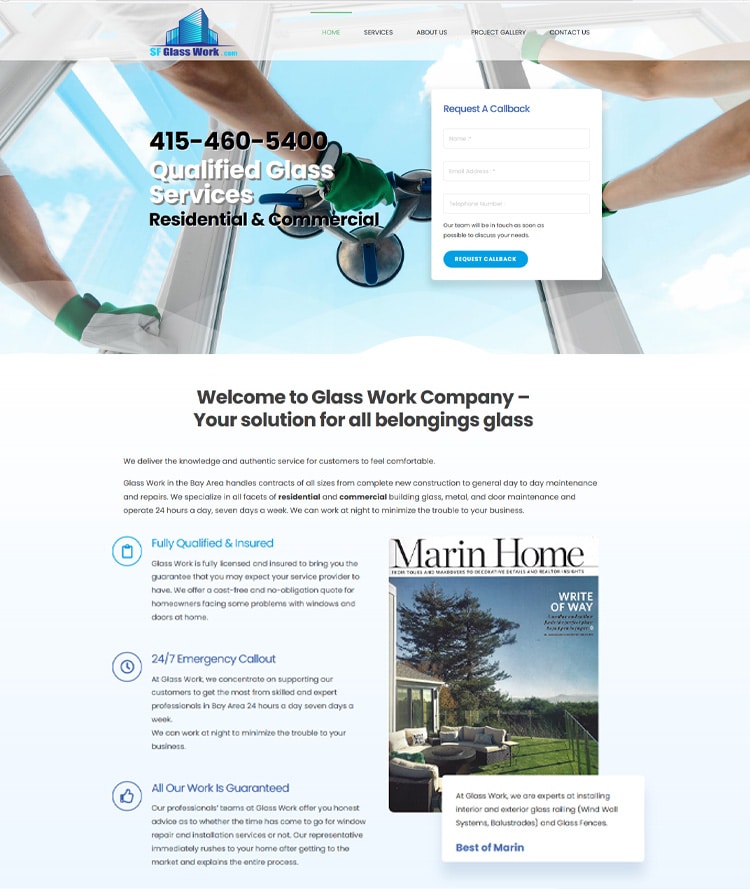 Qualified Glass Services
Glass Work in the Bay Area handles contracts of all sizes from complete new construction to general day to day maintenance and repairs. We specialize in all facets of residential and commercial building glass, metal, and door maintenance and operate 24 hours a day, seven days a week.
We're a team of Strategists, Data Scientists, Designers, and Engineers, collaborating to solve big brand challenges with bold data and inspiration.
Choose how you want to reach your customers.
With text-based search ads, graphic display ads, YouTube video ads, or in-app mobile ads, you have plenty of ways to reach your target customer with AdWords.
Search Ads
Search ads appear next to Google search results when people look for products and services you offer. And, you only pay when people click to visit your website or call your business.
Display Ads
Reach customers on the web and in apps. AdWords display ads appear on over two million websites and in over 650,000 apps, so your ad can show up wherever your audience is.
I was very happy to discover Kayvan and Polygons Media. Kayvan developed a great website for me that is easy to use and works very well for our customers. He has extensive knowledge regarding advertising as well and knows how to quickly analyze data in order to make changes to target the proper demographics. He is very easy to work with, is very efficient, and really listens to what our needs are. Many people can develop a website, but making a site that really does what it is supposed to do....that is where he shines. Thank you Kayvan !

Between graphics and SEO and website design we turn to Kayvan for all of our online marketing. Not only is he responsive in a timely manner but when we ask for guidance pertaining to online marketing he is always accurate and finds economical ways to gain new customers. After 14 years in business we have not found a better web guy !

Anyone out there that is looking for help with their website, Kayvan at Polygons Media, is the BEST!!! He is patient, knowledgeable, talented and returns your emails and calls quickly! I highly recommend using Kayvan for anything having to do with a website!

If you are looking for SEO marketing consultant, look no further than Kayvan @Polygons Media. He's an expert in this matter and knows how to get you SEEN on the web and get you #1 in Google search. I have a small business in Reno, NV and I am so happy that I found him when I was searching online. Kayvan answered all of my questions and helped me promptly with anything I wanted. Thanks for making my website shine!

I needed a new updated website for my business, after doing some research I found Polygons Media. After making an appointment with Kayvan the owner of Polygons Media, we discussed a new layout, color scheme and adding yelp reviews. This is one of the best looking, easy to maneuver websites in the Painting /Waterproofing Business. Thanks Kayvan

We are a small business and thank to Polygons, we can focus in aspects that matter to our business. Polygons takes care of our needs in a timely manner and with great attitude. We truly appreciate the work Kayvan provides to Roof Tech. Thank you Polygons! The Roof Tech Team

Kayvan developed my website and manages my SEO. He is extremely responsive to any changes to the site, and my business receives very good attention thanks to his efforts.

Kayvan is a brilliant web designer with expert knowledge in SEO and marketing. He designed a beautiful and user-friendly website for my business. He listened to my needs and concerns and in no time came back with just what I wanted. Within a few weeks, he had my website among the most visible in my business and area category. I feel fortunate to have Kayvan on my side and available for marketing help.

We are a small company in San Rafael. Kayvan came to our rescue in helping to set up and fix our company website with additions and continual updates. Kayvan continues to manage our requests in a very expeditious manner. We wouldn't be where we are today without the exemplary services of Kayvan and Polygons Media. This is a great company who will meet all of your tech and website needs, quickly, efficiently and effortlessly. I highly recommend Kayvan!

I am so grateful to Kayvan @ Polygons Media. He helped me create beautiful cards as well as a great website that perfectly convey the feeling of my business, Architecturebefriendingchildren. He is a joy to work with and I highly recommend him.

Kayvan is a talented web designer and marketing master! He makes it so easy for me to navigate what is very unfamiliar waters and gets the job done right. I highly recommend Polygons Media. Juliana, Juliana Carlsen Interiors

We used Polygons Media for our dental office website. We had a non-existent site and we did not have a lot of contents to get started. We also did not know the difference between a new style of web design vs the old. But the folks at Polygons came up with a very modern design that appealed to us and creates a number of templates that were easy to fill in. They also helped with securing a host site, URL, etc. In all, it was a smooth experience and we are seeing about 10% higher traffic.

I am very pleased to give Kayvan and Polygon Media all five for their care, expertise and extra attention to details. The work only says half of the story (which you could check Aisatellitez.com). Kayvan's help and ideas on design (never really found a bound), development, and beyond was invaluable for me and my students. Solid work and I will definitely recommend them.

Polygons Media is a fantastic company where you get a lot of personal attention. They respond very quickly with quality work. We highly recommend them, and respect their work and trustworthiness!

Kayvan is so patient and creative. He helped us create an amazing logo for our business' 100th anniversary! He was so patient with us constantly changing and updating colors.. He helped us bring our vision to life! He was such a pleasure to work with and made this such a fun and exciting project for us!! Highly recommend Kayvan!!

Kayvan understands the needs of our business and is very responsive to requests

If you find yourself dreading the thought of doing your own website, Polygons Media is definitely where you need to go!   This is the first time for me designing my own website.  I am technologically challenged but Kayvan made it fun and easy for me.  I really appreciate how  easy he is to work with.  He takes the time to explain things when I get stuck and that is priceless.   His work has helped me grow my business!  He is patient and always gets back to me in a timely manor. No matter where you live, working with Kayvan is definitely the way to grow your business!!  Thank you Kayvan!! Brandee P.


Fill out the form to have one of our marketing experts call you.